About Us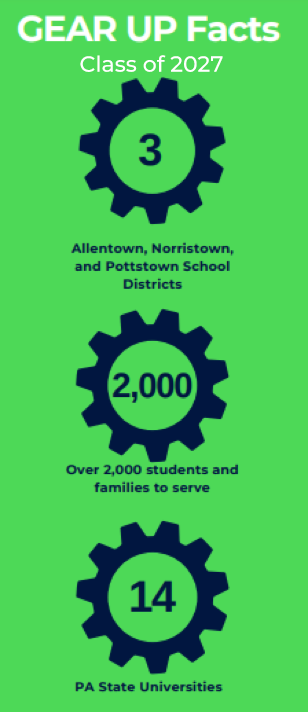 GEAR UP is a nation-wide, college readiness grant initiative funded by the U.S. Department of Education. Pennsylvania has a rich history of state-wide GEAR UP programming, with approximately 20,938 students from 40+ middle and high schools served by PA State GEAR UP grants since 2002. PA State GEAR UP: Reach for the Future is the Pennsylvania State System of Higher Education's (State System) fourth statewide GEAR UP grant. This grant is being administered by Shippensburg University on behalf of the State System. Awarded in October 2021, PA State GEAR UP: Reach for the Future (GEAR UP: RFF) is a 24.4 million grant that will provide services until fall of 2028 for students, parents, and educators within our GEAR UP: RFF target schools and cohort (Class of 2027).
For this GEAR UP grant, we sought feedback from students and administrators about what GEAR UP means to them and how it impacts their communities and students. With that feedback we have decided to name this grant GEAR UP: Reach for the Future. GEAR UP's national vision is for equitable college access and success for all students. We wholeheartedly believe that GEAR UP gives students the opportunity to make the reach for their future dreams a successful one.
GEAR UP aims to increase enrollment and first-year to second-year persistence rates in post-secondary education. We do this by increasing student achievement through data driven decisions, developing and sustaining a college-going culture early on at the middle school and high school level, and establishing a shared community vision for equitable college access and success. We rely on feedback from students, parents, educators, and collective impact partners to drive our programming and shape how we encourage students to reach for their future.
For more about how GEAR UP works, visit our Successes and Impacts and Design pages. To learn more about our partnerships, visit our Districts and Partners pages.